UNITED STATES SHIP
Thresher
(SSN 593)
In Memoriam
April 10, 1963

---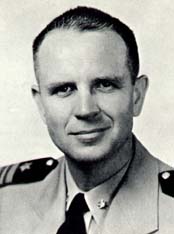 Philip Harcourt Allen
Lieutenant Commander
UNITED STATES NAVY
Philip Harcourt Allen was born on January 24 1924, in Milton, Mass., the son of Addie Rudd and the late Otis W. Allen.
Prior to entering the U.S. Naval Academy in 1942, Philip was graduated as salutatorian from Easthampton High School. A graduate with the class of 1945, at the acadamy, he was comissioned an ensign, and assigned to the destroyer U.S.S. Ault (DD 698).
While serving in Ault, Philip volunteered for submarine duty, and upon being accepted, he was enrolled in the Submarine School at the U.S. Naval Submarine Base, New London, Conn., in January 1947. Successfully completing the basic officers course if instruction in June 1947, he was assigned to his first submarine, the U.S.S. Trumpetfish (SS 425). Philip was qualified as a submariner and received his gold dolphins while serving in the Trumpetfish. In April 1950, he attended the Navy's electronic school in California, and completing the course in December, he reported to the U. S. S. Requin (SS 481).
He served in that command until April 1952, when he was selected for graduate study in electronics engineering at the Navy's Postgraduate School, Monterey, Calif. He was graduated second in his class, and also earned his master's degree in applied physics at the University of California in Los Angeles.
Philip returned to the sea and submarines, and served in the U.S.S. Cavalla (SS 244) and the U.S.S. Sea Cat (SS 399), and in February 1957, he reported to the staff of the commander, Submarine Squadron 4, where he served as engineering and later material officer.
From May 1958, to June 1960, Philip was assigned to the Bureau of Ships, Washington, D.C., in the Sonar Branch. In June, he was reassigned to the Portsmouth Naval Shipyard. After a tour in the planning department, he became the assistand design superintendent at the shipyard, and project officer for Thresher-class submarines.
During his naval career, he was awarded the American Campaign, World War II Victory, National Defense Service, and the Navy Occupation Service with Asia Clasp, medals. He was also qualified to command submarines.
Lieutenant Commander Allen is survived by his widow, the former Jane Whitham; three children, Scott Philip, William W., and Christian Allen, all of North Hampton, N.H. He also leaves his widowed mother, Mrs. Otis W. Allen of Easthampton, Mass.; and an aunt, Miss Fanny G. Allen of Northampton, Mass.

---
Home | In Memoriam | Next page