UNITED STATES SHIP
Thresher
(SSN 593)
In Memoriam
April 10, 1963

---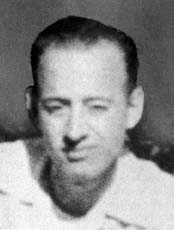 Tilmon Joseph Arsenault
Chief Engineman
UNITED STATES NAVY
Tilmon Joseph Arsenault was born on May 29, 1926, in Chelsea, Massachusetts, the son of Josephine G. Arsenault and the late Emile Arsenault of that city. He attended Assumption Catholic School in Chelsea, and was graduated with second highest honors in his class. A man of varied interests and talents, he played several musical instruments, and was active in sports. Tilmon was an avid amateur radio fan and was a member of the Port City Amateur Radio Club. He also found time to be an officer in the Explorer Scouts of America.
Tilmon enlisted into the naval service in March 1943, and saw service during World War II, in the submarines U.S.S. Plunger (SS 179), U.S.S. Pomfret (SS 391), and U.S.S. Skate (SS 305). He was first designated qualified in submarines, March 26, 1945, while serving in Pomfret.
In February 1946, Tilmon was separated from the naval service. He joined the Naval Reserve Training Unit at Salem, Massachusetts, and was associated with that unit until June 1959, when he returned to active duty.
Tilmon was selected for training in the nuclear power program and attended the Nuclear Power Schools in Groton and Windsor Locks, Connecticut. He reported to the U.S.S. Thresher (SSN 593) on February 27, 1961. He qualified as nuclear reactor operator and in February 1962, Tilmon requalified in submarines, the 25th man to do so in Thresher.
During his naval career Tilmon was awarded the Good Conduct, National Defense Service, American Campaign, World War II Victory, and the Asiatic Pacific Medals. He was also awarded a letter of commendation from the commanding officer, U.S.S. Thresher (SSN 593), and a letter of commendation from the commander, Portsmouth Naval Shipyard.
Tilmon is survived by his wife, Hilda Mary Arsenault, who resides in Portsmouth, New Hampshire, with their five children; William, Marie, Lorraine, and twin daughters, Donna and Debra. He also leaves his mother, Josephine, brothers, Noel, Edward, and Lawrence; and sisters, Bernice, Eva, Marie, Teresa, Doris, Margie, and Lorraine Marie. His grandparents Mr. and Mrs. Gaudett live on Prince Edward Island, Canada.

---
Previous page | Home | In Memoriam | Next page