UNITED STATES SHIP
Thresher
(SSN 593)
In Memoriam
April 10, 1963

---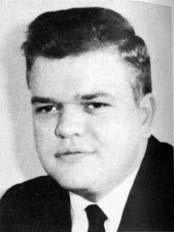 Ronald Eugene Bain
Engineman Second Class
UNITED STATES NAVY
Ronald Eugene Bain was born on November 30, 1939, the youngest of 10 children, in Mount Vernon, Illinois. He was graduated from Mount Vernon Township High School in 1957, and enlisted into the naval service in 1958. He completed his recruit training and attended the Navy's Engineman School prior to volunteering for submarine duty. He successfully completed the Submarine School course of instruction and was assigned tot he submarine U.S.S. Chivo (SS 341). While serving in Chivo, he was designated qualified in submarines and received his silver dolphins. He was selected for advance training in nuclear power, and completing the year-long course of instruction, he was assigned to the U.S.S. Thresher (SSN 593) at the Portsmouth Naval Shipyard in July 1961.
During his naval service, Ronald had earned a letter of commendation from the Chief of the Bureau of Ships, another letter of commendation from the commander, Submarine Force, U.S. Atlantic Fleet, and one from the commanding officer of Thresher. He also earned the Navy's Good Conduct Medal for his outstanding service.
Ronald is survived by his parents, Mr. And Mrs. Fred A. Bain of Mount Vernon, Illinois; brothers Chief Boatswain's Mate Ishmail F. Bain, USN (retired); Commander Louis F. Bain, USN; Charles R. Bain of Johnstown, Pennsylvania; Hugh L. Bain of Tewksbury, Massachusetts; and Thomas E. Bain of Hilliard, Ohio. He also leaves his sisters, Mrs. Nadene Cralley of Normal, Illinois; Mrs. Joan Dixon of Twin Falls, Idaho; Mrs. Ueldean Cralley of Normal; and Mrs. Laura Leffler of Mount Vernon.

---
Previous page | Home | In Memoriam | Next page