UNITED STATES SHIP
Thresher
(SSN 593)
In Memoriam
April 10, 1963

---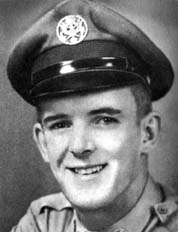 Daniel W. Beal, Jr.
Electronic Engineer
PORTSMOUTH NAVAL SHIPYARD
Born in Columbia Falls, Maine, on May 23, 1931, Daniel W. Beal, Jr., received his early education in the public schools of Jonesport, Maine. In June 1950, he was graduated from Jonesport High School. After graduation, Daniel enlisted into the Air Force and underwent basic training at San Antonio, Tex. He completed 4 years of service, and was honorably discharged with the rank of staff sergeant.
Returning home, Daniel enrolled in the University of New Hampshire, and was graduated with a bachelor of science degree in electronic engineering.
After graduation, Daniel became associated with the Portsmouth Naval Shipyard as an electronic engineer with the polaris submarine program, in the combat system division (sonar).
Daniel was active in scouting with Cub Scout Pack 269 of Somersworth, where his son Daniel, III, was a Webloe. He and his family were also active in church affairs, and were members of the First Parish Congregational Church, in Somersworth, N. H.
Besides his wife Joan, he left two daughters; Cathy Lee and Carol Ann; and two sons, Daniel III, and Harold Lee. He is also survived by his parents, Mr. and Mrs. Daniel W. Beal, Senior, of Dover, N. H.

---
Previous page | Home | In Memoriam | Next page