UNITED STATES SHIP
Thresher
(SSN 593)
In Memoriam
April 10, 1963

---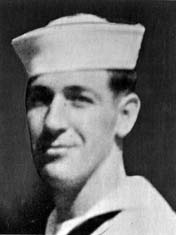 John Edward Bell
Machinist's Mate First Class
UNITED STATES NAVY
John Edward Bell was born in Toccoa, Georga, on March 5, 1936. He attended elementary schools in that area and was later graduated from the Stephens County High School in 1954. He was employed by a local automobile supply company, worked as a patrolman for the Georgia Forestry Commission, and was a member of the Georgia National Guard, before enlisting in the naval service on June 11, 1958.
After his basic training at the U.S. Naval Training Center, San Diego, California, John was transferred to the Great Lakes, Illinois naval installation, where he was enrolled in the Navy's Machinist's Mate School. Completing the course, he started his first sea duty assignment in the aircraft carrier U.S.S. Essex (CVA 9) and served aboard until March 1961. He attended the Air Conditioning and Refrigeration School at Norfolk, Virginia while a member of the Essex. He received several commendations from the commanding officer of the Essex for his contributions to the excellent performance of the ship. He had also earned the Navy's Good Conduct Medal.
John volunteered for submarine duty in April 1961, and attended the Submarine School at the U.S. Naval Submarine Base, New London, Connecticut. In October, he was selected for advance training in nuclear power and studied at the Nuclear Power Training Unit, Idaho Falls, Idaho. He was then assigned to the submarine U.S.S. Thresher (SSN 593) at the Portsmouth Naval Shipyard, where he served as a reactor technician.
He is survived by his widow, the former Carrier A. Saunders of Old Mystic, Connecticut, and a daughter, Pamela Annette. He also leaves his parents, Mr. and Mrs. Ralph E. Bell; sisters, Mrs. Roy Kelling and Mrs. Elizabeth Dorsey; and his grandfather, Mr. C. Garland.

---
Previous page | Home | In Memoriam | Next page