UNITED STATES SHIP
Thresher
(SSN 593)
In Memoriam
April 10, 1963

---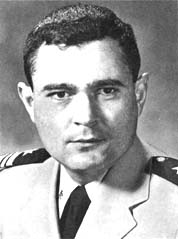 John Hilary Billings
Lieutenant Commander`
UNITED STATES NAVY
John Hilary Billings was born on March 13, 1928, in Jamaica, N.Y., and spent his early school years in that area. He was sworn into the naval service as a midshipman at the Naval Academy on June 13, 1946. Upon being graduated with the class of 1950, he was commissioned as an ensign and assigned to his first sea duty in the destroyer U.S.S. Robert L. Wilson (DD 847).
Two years later, John volunteered for submarine duty, and entered the Submarine School at the U.S. Naval Submarine Base, New London, Connecticut. He was graduated in December 1952, 10th in a class of 89. He then served in the submarines U.S.S. Bugara (SS 331), and later the U.S.S. Bonita (SS 552), based in San Diego, California. During this period, John became qualified in submarines, and was awarded his gold dolphins. He was also qualified to command submarines.
He was selected for graduate study and attended the Naval Postgraduate School, Monterey, California, and the University of Maryland, where he earned a doctoral degree in applied mathematics, in the Navy advanced science program in 1960.
After a 6-month course of instruction in nuclear submarine familiarization at Portsmouth Naval Shipyard, he was assigned duties as assistant planning and estimating superintendent (new construction) in the planning department of the shipyard.
In addition to his regular professional attainments, he had both and interest and talent in teaching. While stationed at Portsmouth, he taught an accredited extension course in applied mathematics for the University of New Hampshire. He was an accomplished pianist and taught his young daughter to play. A devout Catholic, he took an active interest in church affairs and was president of the Holy Name Society at Saint Michael's Church. He was a German linguist and Russian translator.
During his naval service, he had been awarded the World War II Victory Medal, Navy Occupation Service Medal with European Clasp, Korean Service Medal, National Defense Service Medal, China Service Medal and the United Nations Service Medal.
John is survived by his widow, the former Deloras W. Welsant of Baltimore, Md.; five children, Vicki A.; John H. Jr.; Mary M., Catherine, and Blake B. He also leaves his mother, Mrs. Edna M. Billings of Mineola, N.Y.

---
Previous page | Home | In Memoriam | Next page