UNITED STATES SHIP
Thresher
(SSN 593)
In Memoriam
April 10, 1963

---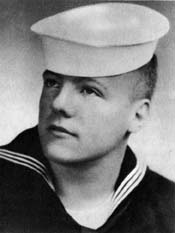 Gerald Charles Boster
Electrician's Mate Second Class
UNITED STATES NAVY
Gerald Charles Boster was born on August 16, 1941, in Shelbina, Missouri, the son of Mr. and Mrs. Stanton M. Boster, of St. Louis, Missouri.
He attended the Baden Elementary School in St. Louis, and was graduated from Beaumont High School. Prior to entering the Navy in January, 1960, he attended Rolla School of Mines and Metallurgy (Missouri University), where he was a member of the swimming team and of the Kappa Sigma Fraternity.
Gerald received his basic training at the U.S. Naval Training Center, San Diego, California, and later attended the Navy's Electrician's Mate School there. He volunteered for submarine duty, and upon being accepted, he was enrolled in the Submarine School at the U.S. Naval Submarine Base, New London, Connecticut. He was assigned to his first submarine, the U.S.S. Halfbeak (SS 352), in which he became qualified as a submariner on September 14, 1961. Gerald was selected for advance training in nuclear power, and received his training at the submarine base and at the nuclear-power training unity located at Windsor Locks, Connecticut. He successfully completed the course of instruction on October 31, 1962, and in the following month he was assigned to the U.S.S. Thresher (SSN 593).
Gerald is survived by his parents, Mr. and Mrs. Stanton M. Boster of St. Louis; his identical twin brother, James M. Boster who is serving in the Navy aboard the nuclear-powered cruiser, U.S.S. Long Beach (CGN 9).

---
Previous page | Home | In Memoriam | Next page