UNITED STATES SHIP
Thresher
(SSN 593)
In Memoriam
April 10, 1963

---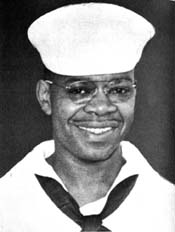 George Bracey
Steward Third Class
UNITED STATES NAVY
George Bracey was born on December 18, 1919, the only child of Lela Bracey and the late Milton Bracey of Jackson, Mississippi. He attended local schools in Jackson, and was a member of the Civilian Conservation Corps.
George enlisted in the Navy on October 9, 1942, and received his basic training at the U.S. Naval Training Center, Norfolk, Virginia. His first duty assignment upon completing training was in the aircraft carrier U.S.S. Ranger (CV 4). he served in that command until June 18, 1943, when he then volunteered for submarine duty. Upon being accepted, George was enrolled in the Submarine School at the U.S. Naval Submarine Bae, New London, Connecticut. Successfully completing the course, he was assigned to the U.S. S. Pargo (SS 264). George subsequently saw service in the U.S.S. Griffin (AS 13), U.S. S. Vogelgesang (DD 862), U.S.S. Bluefish (SS 222), in wheich he became qualified as a submariner and was awarded his silver dolphins; U.S.S. Clamagore (SS 343), U.S.S. Thornback (SS 418), U.S.S. Razorback (SS 394), U.S.S. Sea Poacher (SS 406), and the U.S.S. Amberjack (SS 522).
In July, 1960, George was assigned to the nuclear-powered submarine, U.S.S. Thresher (SSN 593).
During his naval service, George had earned the Submarine Combat Insignia with two gold stars, World War II Victory Medal, American Service Medal, Asiatic-Pacific Theater Service Medal, Philippine Liberation Ribbon, National Defense Service Medal, Good Conduct Medal (three awards); Commendation for outstanding performance while assigned to the U.S.S. Razorback, and letter of commendation from the commanding officer of Thresher (SS 593).
George was an ardent church worker and was an ordained deacon at the People's Baptist Church of Portsmouth, New Hampshire. He was a 32d Degree Mason of the D. G. Lett Lodge.
He is survived by his widow, the former Letha Reed of Raymond, Mississippi, seven children, and his widowed mother, Mrs. Milton Bracey of Jackson, Mississippi.

---
Previous page | Home | In Memoriam | Next page