UNITED STATES SHIP
Thresher
(SSN 593)
In Memoriam
April 10, 1963

---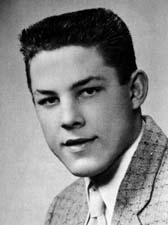 Richard James Carkoski
Engineman First Class
UNITED STATES NAVY
Richard James Carkoski was born on July 28, 1938, in Ord, Nebraska, the son of Mr. and Mrs. Stephen Carkoski.
Attending local schools, Richard was graduated from Central Catholic High School, Grand Island, Nebraska in 1957. During his school years he was active in athletics and earned letters in football and track.
Richard enlisted in the Navy on July 19, 1957, and received his basic training at the U.S. Naval Training Center, Great Lakes, Illinois. He also attended the Navy's Engineman School at San Diego, California. Richard volunteered for submarine duty and underwent training at the Submarine School located at the U.S. Naval Submarine Base, New London, Connecticut. Following graduation in January 1958, he was assigned to the submarine U.S.S. Sirago (SS 485). In December of the same year, he became qualified as a submariner and was awarded his silver dolphins.
On February 27, 1961, Richard was reassigned to the nuclear-powered submarine U.S.S. Thresher (SSN 593). During his time in the naval service he was awarded the Navy's Good Conduct Medal, and a letter of commendation from the commanding officer of the U.S.S. Sirago (SS 485) for his outstanding performance of duty.
Richard is survived by his parents, Mr. and Mrs. Stephen Carkoski; sisters, Eleanore and Joan, and Mrs. Mary Picthall, all of Grand Island, Nebraska; and a brother, Eugene Carkoski of the U.S. Navy.

---
Previous page | Home | In Memoriam | Next page