UNITED STATES SHIP
Thresher
(SSN 593)
In Memoriam
April 10, 1963

---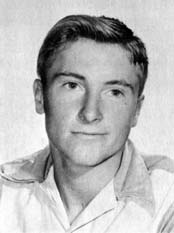 Patrick Wayne Carmody
Storekeeper Second Class
United States Navy
Patrick Wayne Carmody was born on November 16, 1938, in Madison, Wis., and spent his early boyhood in Wisconsin. After completing his early schooling, Patrick enlisted in the Navy on July 16, 1956.
He received his basic training at the U.S. Naval Training Center, Great Lakes, Ill., and after completing his course of instruction in October 1956, he attended the Navy's Storekeeper School. His first sea duty assignment was in the aircraft carrier U.S.S. Valley Forge (CVA 45), and later the U.S.S. Saratoga (CVA 60).
Patrick volunteered for submarine duty and upon being accepted he was enrolled in the Submarine School at the U.S. Naval Submarine Base, New
London, Conn. successfully completing the course, Patrick was assigned to the nuclear-powered submarine U.S.S. Thresher (SSN 593) on February 18,
1963.
Patrick had earned the Navy's Good Conduct Medal during his naval service, and also served at the naval installations at Newport, R.I., and Clarksville, Tenn., prior to entering the Submarine Service.
He is survived by his daughter, Vickie Ann Carmody of Jacksonville Beach, Fla., and his father, Mr. Edward Carmody of Toledo, Ohio.

---
Previous page | Home | In Memoriam | Next page