UNITED STATES SHIP
Thresher
(SSN 593)
In Memoriam
April 10, 1963

---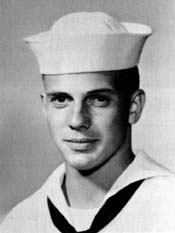 Steven George Cayey
Torpedoman's Mate, Second Class
United States Navy
Steven George Cayey was born on November 7, 1939, in Malone, N.Y., the son of Mr. and Mrs. Jay F. Cayey.
He attended elementary schools in Sugar Island, N.Y., and was graduated in 1957, from the Potsdam High School, Potsdam, N.Y. during his school years, Steven was active in school sports and had received his letter in track. His hobbies included hunting, fishing, camping, target shooting, and archery. He was also active in the 4-H club, and participated in many of their camping trips. He had worked as a counselor and woodcraft instructor, and had been selected to attend Camp Arnot, a forestry camp near Ithaca, N.Y.
Steven enlisted in the Navy in July 1957, and after completing his basic training, he volunteered for submarine duty. He was enrolled in the Navy's Submarine School at the U.S. Naval Submarine Base, New London, Conn., graduating in April 1958. He later attended the submarine school's
torpedoman's course, and upon completing the course of instruction he was assigned to the U.S.S. Cavalla (SS 244). While serving in Cavalla, he
earned his silver dolphins; the insignia of the qualified submariner. He had also earned the Navy's Good Conduct Medal. In January 1963, Steven was
assigned to the nuclear-powered submarine U.S.S. Thresher (SSN 593).
He is survived by his widow, Donna L. Cayey; a daughter, Vicky Lynn; a sister, Diane; a brother, Neil, and his parents, Mr. and Mrs. Jay F. Cayey
of Potsdam, N.Y.

---
Previous page | Home | In Memoriam | Next page