UNITED STATES SHIP
Thresher
(SSN 593)
In Memoriam
April 10, 1963

---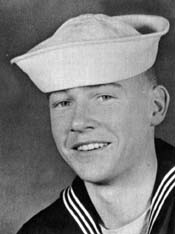 Edward Christiansen
Quartermaster Third Class
United States Navy
Edward Christiansen was born on January 28, 1943, in Bronx, N.Y. He attended St. Gabriel's Elementary School and Cardinal Hayes High School. He enlisted in the Navy on his 17th birthday, fulfilling a lifelong ambition.
Edward received his basic training at the U.S. Naval Training Center, Great Lakes Ill., and volunteered for submarine duty. He was accepted for training and entered the Submarine School at the U.S. Naval Submarine Base, New London, Conn.
In February 1961, Edward was assigned to his first submarine, The U.S.S. Thresher (SSN 593), and on August 10 1962, he became qualified as a submariner and was awarded his silver dolphins.
Edward is survived by his parents, Mr. and Mrs. Oliver Christiansen; brother, John; and a sister, Claudia, all of Bronx, N.Y.
---
Previous page | Home | In Memoriam | Next page