UNITED STATES SHIP
Thresher
(SSN 593)
In Memoriam
April 10, 1963

---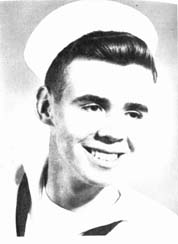 Larry William Claussen
Electrician's Mate Second Class
United States Navy
Larry William Claussen was born on November 30, 1941, in Toronto, Kans. He attended schools in Topeka, and was graduated from Topeka High School in May 1959, near the top of his class.
Larry had received an appointment to the U.S. Air Force Academy, but chose to enlist in the Navy. After recruit training at the U.S. Naval Training Center, San Diego, Calif., he attended the Navy's Class "A" Electrician's Mate School. He volunteered for submarine duty and upon being accepted he was enrolled in the Submarine School at the U.S. Naval Submarine Base, New London, Conn. Successfully completing the course in late 1960, he was selected for advance training in nuclear power and entered the nuclear-powered schools at New London, and later at West Milton, N.Y.
On November 10, 1961, Larry was assigned to the U.S.S. Thresher (SSN 593), and later became qualified as a submariner and received his silver dolphins. He had also received a letter of commendation from the commanding officer of Thresher, for his outstanding performance of duty during sea trials in June 1962.
Larry is survived by his widowed mother, Mrs. Helen Mae Claussen; a sister, Mrs. Mary Helen Cannon of Topeka, Kans., a brother, John, of Lincoln, Nebr., another sister, Mrs. Glenda L. Smith of Fort Walton Beach, Fla., and his grandmother, Mrs. Minne Ferguston of Cret, Nebr.

---
Previous page | Home | In Memoriam | Next page