UNITED STATES SHIP
Thresher
(SSN 593)
In Memoriam
April 10, 1963

---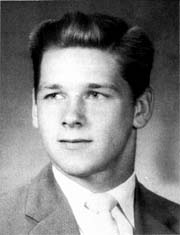 Thomas Edward Clements
Electronics Technician Third Class
United States Navy
Thomas Edward Clements was born on July 17, 1937, in Bronx, N.Y. He was active in scouting while attending Roosevelt Junior High School in Westfield, N.J. Thomas was graduated from Westfield High School, where active in sports, he earned letters in football and track. He also was a member of the choir and the Westfield Boy's Glee Club. After high school he attended Montana State College, prior to enlisting in the naval service on April 28, 1959.
He received his basic training at the U.s. Naval Training Center, Great Lakes, Ill., and attended the Navy's electronics technician School. He volunteered for submarine duty and successfully completed the course of instruction at the Submarine School located at the U.S. Naval submarine base, New London, Conn.
His first duty in a submarine was in the U.S.S. Tunny (SS 282), a unit of the Pacific Fleet. It was while serving in Tunny that Thomas became qualified as a submariner and earned his silver dolphins.
On November 30, 1961, Thomas received his orders and reported for duty as a member of the crew of the nuclear-powered submarine U.S.S. Thresher (SSN 593). Thomas had earned the Navy's Good Conduct Medal during his naval service.
He is survived by his widow, Mrs. Elaine Rowland Clements; his mother and stepfather, Mr. and Mrs. Warren W. Ball; sisters, Mrs. Joan Neely; Mrs. Marilyn Sanger; Mrs. Kathleen Van Lenten, and his paternal grandfather, Mr. Thomas Edward Clements, Sr., all of New Jersey.

---
Previous page | Home | In Memoriam | Next page