UNITED STATES SHIP
Thresher
(SSN 593)
In Memoriam
April 10, 1963

---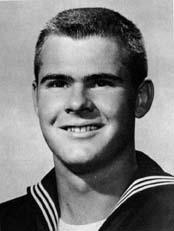 Clyde Elcott Davison III
Electronics Technician Third Class
United States Navy
Clyde Elcott Davison was born in Compton, Calif., on June 7, 1943. His family moved to Hobbs, N. Mex., where he attended, and was graduated from Hobbs High School in 1961. Clyde was active in scouting, beginning as a Bob Cat Cub and progressing to the Brotherhood of the Order of the Arrow. He served as counselor at Camp Wehinapay, the boy Scout camp for the State of New Mexico. Clyde joined the Order of DeMolay at the age of 14, and held numerous offices including that of master counselor of his chapter in 1960. He was a devout member of his church, Disciples of Christ, and was State vice president of the CYF group during his senior year.
He applied for a cooperative scholarship to the New Mexico School of Mines, and was accepted. However, Clyde decided on a career in electronics, and enlisted in the Navy on May 29, 1961.
After recruit training at the U.S. Naval Training Center, San Diego, Calif., he volunteered for submarine duty. He was accepted for training, and enrolled in the submarine School at the U.S. Naval Submarine Base, New London, Conn. He was then selected for advance training, and attended the Guided Missile School, Dam Neck, Va., prior to being assigned to the nuclear-powered submarine U.S.S. Thresher (SSN 593). He reported aboard on
March 1, 1963.
Clyde is survived by his mother, Fawnette Kirk Burnett, and two sisters, Jeryl Davison, and Georgellen Burnett, all of Hobbs, N. Mex.

---
Previous page | Home | In Memoriam | Next page