UNITED STATES SHIP
Thresher
(SSN 593)
In Memoriam
April 10, 1963

---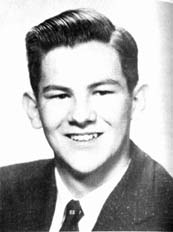 Roy Overton Denny, Jr.
Electrician's Mate First Class
United States Navy
Roy Overton Denny, Jr., was born on February 8, 1939, in New York City. He attended schools there until his family moved to Groton, Conn., in November 1950. He was graduated from Robert E. Fitch High School, Groton, in June 1957.
Roy's career in the Navy and in submarines was apparent from an early age. His father, who died in 1956, served in submarines during a 28-year career in the Navy. Roy's interests were directly connected with ships and the sea; nautical books and ship models were his favorite hobbies.
After basic training at the Navy's Submarine School at the U.S. Naval Submarine Base, New London, Conn., Roy enlisted in the regular Navy in October 1957.
His first submarine duty was in the U.S.S. Threadfin (SS 410), in which he became qualified as a submariner, and was awarded his silver dolphins. In November 1958, he attended the Navy's Electrician's Mate School and following graduation he was selected for advanced training in nuclear power. Roy successfully completed the course of training at New London, and at the special prototype training unit at Windsor Locks, Conn. He was assigned to the U.S.S. Thresher (SSN 593) on February 27, 1961.
He is survived by his widow, Mrs. Carol Denny, and a daughter, Teresa Anne. He also leaves his mother, Mrs. R. O. Denny, Sr.; a brother, Myles, and two sisters, Catherine and Elizabeth, all of Groton, Conn.

---
Previous page | Home | In Memoriam | Next page