UNITED STATES SHIP
Thresher
(SSN 593)
In Memoriam
April 10, 1963

---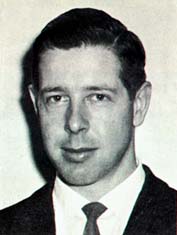 Richard Roy Des Jardins
Supervisory Mechanical Engineer

PORTSMOUTH NAVAL SHIPYARD

Richard Roy Des Jardins was born on March 21, 1931, the son of Mrs. Mary Roy Des Jardins and the late Amos F. Des Jardins of Kittery, Maine.

He graduated from Traip Academy in 1948, where he participated in sports, and was a member of the Model, Spanish, and Carnival Clubs. Richard was a graduate of the University of Maine, where he earned a degree in mechanical engineering. While a student of the university, Richard became a member of the Reserve Officer Training Corps, and as a first lieutenant with the Army, served 2 years on active duty.

Released from active duty in May 1954, Richard joined the Portsmouth Naval Shipyard where he served as a supervisory mechanical engineer, and a branch head in the Combat Systems Division, Missile Handling and Launching Section of the Planning Department.

His special interests included all outdoor sports, and he was also active in community affairs. Richard, a member of the First Congregational Church, served as president of their Supper Club, an organization to provide financial and social aid to the members of the church.

In addition to his wife, the former Elizabeth Hurd, he is survived by two daughters, Lynne Louise and Susan Elizabeth of Kittery, Maine. He also leaves his mother, Mary Roy Des Jardins, and a sister, Mrs. Rita Lalley.

---
Previous page | Home | In Memoriam | Next page