UNITED STATES SHIP
Thresher
(SSN 593)
In Memoriam
April 10, 1963

---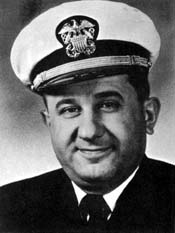 Michael John DiNola
Lieutenant Commander
UNITED STATES NAVY
Michael John DiNola was born on October 2, 1929, in New York, N.Y., son of Mr. and Mrs. Nicholas A. DiNola. As a youth, he attended Saint Columbia Grammar School in Manhattan, and maintaining excellent grades, was awarded the Mathematics Medal, upon graduating in 1943. He also was graduated from Brooklyn Technical High School in 1947.
After high school, he attended evening classes at New York University, where he studied accounting. During this period, he became affiliated with the Naval Reserve submarine program at the Brooklyn Navy Yard. Michael was a quartermaster seaman when he competed in the examination that won him an appointment to the Naval Academy.
He entered the Academy in June 1949, and was graduated with the class of 1953. His first sea duty was in the attack cargo ship U.S.S. Capricornus (AKA 57). In June 1954, he entered the submarine school for instruction, and in December 1954, he was assigned to the submarine U.S.S. Tiru (SS 416). Michael qualified in submarines in February 1956, aboard the Tiru. In September 1957, he was transferred to the U.S.S. Sterlet (SS 392), and served in that command until May 1959, when he was selected to attend the Nuclear Power School at New London. This was followed by more schooling in nuclear power, when, in December 1959, Michael attended the Naval Nuclear Power Training Unit at Schenectady, N.Y. There, he qualified as an operator in the S3G land-based prototype submarine nuclear propulsion plant. In February 1961, Michael was assigned for duty to the U.S.S. Thresher (SSN 593). Michael had earned the National Defense Service Medal during his naval service.
He was married to the former Edna Zimmerman of Webster, Mass., who now resides with their five children in Rye, N.H. The children are, Michael, Mark, Debra, Matthew and Donna. He also leaves his parents, Mr. and Mrs. Nicholas A. DiNola of New York.

---
Previous page | Home | In Memoriam | Next page