UNITED STATES SHIP
Thresher
(SSN 593)
In Memoriam
April 10, 1963

---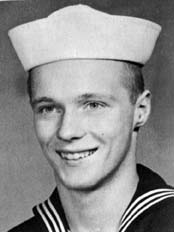 Don Roy Dundas
Electronics Technician Second Class
United States Navy
Don Roy Dundas was born on July 21 1940, in Dodge City, Kans. During his early school years, he became interested in electronics, and was a licensed "ham" operator at age 14. He was a member of the American Relay League. While attending high school, Don was the chief electrician for the school's dramatic department where he was responsible for lighting and sound effects. He also worked for a local radio station prior to enlisting in the Navy on August 29, 1958.
He received his basic training at the U.S. Naval Training Center, Great Lakes, Ill., and later attended the Navy's Electronics Technician School, and the Sonar Plotting School at the U.S. Naval Submarine Base, New London, Conn. Don volunteered for submarine duty and upon being accepted, he was enrolled as a student in the Navy's Submarine School at the submarine base.
On March 18, 1960, he was graduated from the school and assigned to his first submarine, the U.S.S. Balao (SS 285). While serving in the Balao, he became qualified as a submariner and was awarded his silver dolphins. Don had also earned the Navy's Good Conduct Medal.
On November 17, 1961, Don received his orders to the nuclear-powered submarine U.S.S. Thresher (SSN 593).
He is survived by his widowed mother, Mrs. Gladys Carol Dundas of Russell, Kans., and a grandmother, Mrs. Clarence Blakeway of Colby, Kans.

---
Previous page | Home | In Memoriam | Next page