UNITED STATES SHIP
Thresher
(SSN 593)
In Memoriam
April 10, 1963

---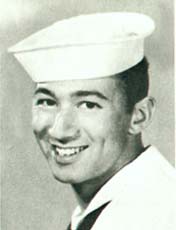 Gregory Joseph Fusco
Electrician's Mate Second Class
UNITED STATES NAVY
Gregory Joseph Fusco was born on May 5, 1936, in Endicott, N.Y. He was graduated from Union-Endicott High School in June 1954, where he was a member of the Italian Club and the school house of representatives.
Gregory was a member of the U.S. Naval Reserve while in high school, and while attending Broome Technical College and Lowell School of Business in Binghamton, N.Y.
He came on active duty and received his basic training at the U.S. Naval Training Center, Bainbridge, Md., prior to being assigned to the destroyer escort U.S.S. Heyliger (DE 510). He later served at the U.S. Naval Air Station, Niagara Falls, N.Y. It was while there that Gregory volunteered for submarine duty. He was enrolled at the Submarine School in New London, Conn. and later attended the Navyís Electricianís Mate School.
In November 1956, he was assigned to the submarine U.S.S. Clamagore (SS 343), and later in the U.S.S. Sablefish (SS 303). While serving in the Clamagore, Gregory became qualified as a submariner and was awarded his silver dolphins on February 26, 1958.
He was then selected for advance training in nucler power, and successfully completed the 1-year course of instruction both at the U.S. Naval Submarine base, and the nuclear power training unit at Windsor Locks, Conn.
In February 1962, Gregory was assigned to his first nuclear-powered submarine, the U.S.S. Thresher (SSN 593).
He was awarded the Navyís Good Conduct Medal for his outstanding conduct as a Navy Petty Officer.
Gregory is survived by his widow, Mrs. Francine Rita Fusco; three children, Richard, Robert and Diane all of Ledyard, Conn. He also leaves his parents, Mr. and Mrs. Libbra A. Fusco of Endicott, N.Y.; and a brother, Libbra II, serving with the U.S. Air Force.

---
Previous page | Home | In Memoriam | Next page