UNITED STATES SHIP
Thresher
(SSN 593)
In Memoriam
April 10, 1963

---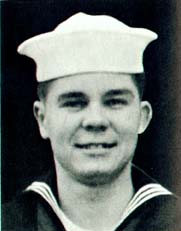 John Edmond Garner
Yeoman Seaman
UNITED STATES NAVY
John Edmond Garner was born on August 29, 1941, in Albany, Calif., and attended local schools in nearby Vallejo, Calif.
During his school years, John was active in Scouting for several years, and earned the coveted Eagle Scout award from Explorer Post 212 of Vallejo. During his summer vacations, he worked as a volunteer counselor at a summer day camp, and was an active member of the Teen Club of St. Basilís Catholic Church in Vallejo.
John entered the Navy on March 10, 1960, and received his basic training at the U.S. Naval Training Center, San Diego, Calif. Shortly after completing the training, John volunteered for submarine duty. He was accepted for training, and enrolled in the Submarine School located at the U.S. Naval Submarine Base, New London, Conn. Successfully completing the course of instruction, he was assigned to his first submarine duty in the U.S.S. Albacore (SS 569). On May 5, 1962, John became qualified as a submariner and was awarded his silver dolphins. He served in the Albacore until February 2, 1963, when he was then reassigned to the nuclear-powered submarine U.S.S. Thresher (SSN 593).
John is survived by his parents, Mr. and Mrs. Chester G. Garner, and a brother, Stephen of Vallejo, Calif. He also leaves his maternal grandparents, Mr. and Mrs. Frank A. Wenn also of Vallejo, and a paternal grandmother, Mrs. Clara Garner of Ogden, Utah.

---
Previous page | Home | In Memoriam | Next page