UNITED STATES SHIP
Thresher
(SSN 593)
In Memoriam
April 10, 1963

---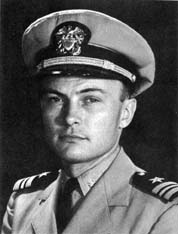 Pat Mehaffy Garner
Lieutenant Commander
UNITED STATES NAVY
Pat Mehaffy Garner was born September 26, 1931, in Memphis, Tennesee. He majored in psychology at Vanderbilt University after attending various local schools in Memphis. While at Vanderbilt, he was active in the Naval Reserve Officers Training Corps, and a member of the Phi Theta Fraternity. He was graduated and commissioned ensign on June 6, 1953.
Following amphibious training at Little Creek, Virginia, he was assigned to the U.S.S. Glynn (APA 239) in which he served for 2 years.
A volunteer for submarine duty, he completed basic training at the Submarine School, New London, Connecticut, in December 1955. Pat then received orders to the submarine Spikefish (SS 404) where he qualified and received his gold dolphins. He was then selected to participate in advance training in nuclear propulsion, and following a 1-year course at New London and Idaho Falls, Idaho, he was assigned to the U.S.S. Skate (SSN 578).
While a member of the crew of Skate, he participated in all three of that ship's Arctic trips under the pack ice. For this service he was awarded the Navy Unit Commendation and a Bronze Star in lieu of a second such award. Pat served in Skate for nearly 4½ years. In December 1962, he was assigned as executive officer of Thresher. Pat was promoted to lieutenant commander in July 1962, a year in advance of his contemporaries. He was nominated by the New London Junior Chamber of Commerce as one of the 10 most outstanding men in the Nation.
He also earned the Navy Unit Commendation awarded Skate (SSN 578), with bronze star, and the National Defense Service Medal.
He is survived by his widow, Alice Stets Garner; two daughters, Kathryn Lucile, and Sarah Beth, who reside with their mother in Mystic, Connecticut. He also leaves his widowed mother, Mrs. Sam Garner of Marianna, Arkansas.

---
Previous page | Home | In Memoriam | Next page