UNITED STATES SHIP
Thresher
(SSN 593)
In Memoriam
April 10, 1963

---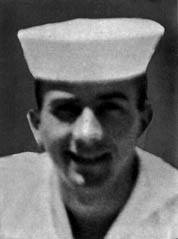 Robert Howard Gosnell
Seaman
UNITED STATES NAVY
Robert Howard Gosnell, the son of Mr. and Mrs. Henry Lloyd Gosnell of Raleigh, N.C., was born on March 1, 1943.
He attended schools in Raleigh and was graduated from high school where he was active in school activities, particularly swimming. In his senior year he was selected the outstanding swimmer in the backstroke, and in diving. He also acted as an instructor at the local YMCA for two summers.
In other activities, Robert was a member of the Monogram Club, student council, and the yearbook staff.
He enlisted in the Navy on September 11, 19612, and volunteered for submarine duty. He was selected and enrolled as a student in the Submarine School at the U.S. Naval Submarine Base, New London, Conn. Successfully completing the course of instruction, Robert was assigned to the base, prior to becoming a crewmember of the nuclear-powered submarine U.S.S. Thresher (SS 593), on October 26, 1962.
In addition to his parents, Mr. and Mrs. Henry Lloyd Gosnell, Robert is survived by a brother, Henry, and four sisters; Mrs. Anna Jones, Mrs. Peggy Beasley, Mrs. Linda Barnett, and Mrs. Donna Bartholomew, all of Raleigh, N.C.

---
Previous page | Home | In Memoriam | Next page