UNITED STATES SHIP
Thresher
(SSN 593)
In Memoriam
April 10, 1963

---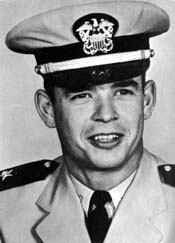 John Gilbert Grafton
Lieutenant Junior Grade
UNITED STATES NAVY
John Gilbert Grafton was born on August 13, 1937, in Fayetteville, West Virginia, the son of Mr. and Mrs. Ralph E. Grafton of Dewitt, N.Y.
Prior to entering the Naval Academy in 1957, John was graduated from Fayetteville High School, where he was a member of the National Honor Society.
In June 1961, he was graduated from the Naval Academy and commissioned ensign. He was then ordered to the Nuclear Power School at the Mare Island Naval Shipyard in Valleho, California, for instruction. Upon completing this course in December 1961, John was selected for further training and received orders to the Nuclear Power Training Unit, Idaho Falls, Idaho. While a student at the school, John received nuclear power operational training, until August 1962. He was then transferred to the Submarine School, New London, Connecticut. Upon completion of his basic submarine training there, John was ordered in March 1963, to the submarine Thresher (SSN 593)
Lieutenant Junior Grade Grafton leaves, in addition to his parents, his grandfather, Mr. Gilbert Smith, to whom he was very close, and for whom he was named.

---
Previous page | Home | In Memoriam | Next page