UNITED STATES SHIP
Thresher
(SSN 593)
In Memoriam
April 10, 1963

---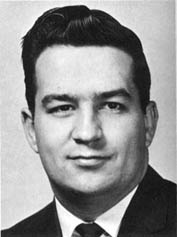 Paul Alfred Guerette
Marine Engineering Technician
PORTSMOUTH NAVAL SHIPYARD
Paul Alfred Guerette was born on February 27, 1939, the son of Mr. and Mrs. Gerald Guerette of Nashua, N.H. He attended local schools in Nashua, and was graduated from Nashua High School in 1957.
Inclined toward mathematics and talented as well in engineering subjects, Paul received early recognition in the form of an award from the Gilbert Co., for a model he built from an erector set, at age 11 years.
Upon graduating from high school he won a scholarship from the General Electric Corp. plant in Somersworth, N.H. After a year at the University of New Hampshire, he joined the Portsmouth Naval Shipyard in July 1958, as an apprentice marine machinist. His high examination marks resulted in his immediate transfer to the Design Division as a draftsman.
He participated in evening courses of instruction by the University of New Hampshire in the study of calculus, statistics, dynamics, and thermodynamics.
Paul was a member of Saint Patrick's Parish in Nashua, and a member of the Holy Name Society. Active in sports, Paul was a better-than-average golfer, and member of the Twilight League at the Portsmouth Country Club. He was also one of eight students who participated in the shipyard's subprofessional engineering training program to graduate in February 1953.
Paul was married to the former Annette Beaudet of Nashua, and was father of three sons; Michael, Mark, and Thomas, now living in Portsmouth. In addition to his parents, he is also survived by two brothers, Richard and Norman, and a younger sister, Sally.

---
Previous page | Home | In Memoriam | Next page