UNITED STATES SHIP
Thresher
(SSN 593)
In Memoriam
April 10, 1963

---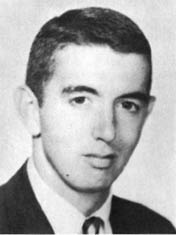 Richard Charles Hall
Electronics Technician Second Class
United States Navy
Born on December 7, 1939, in Washington, D.C., Richard Charles Hall attended public schools in Arlington, Va. He was graduated from Wakefield High School in 1958.
He was active in school activities, and in his senior year was president of the "Hi-Y", a YMCA-sponsored student activity. Near the end of his senior year, Richard enlisted in the Naval Reserve Submarine Division, Washington, D.C.
After graduation he attended Columbian Preparatory School in Washington, D.C., with hopes of going to the U.S. Naval Academy. However, in August 1960, Richard decided to go on active duty.
He was graduated from the Electronics Technician Class "A" School at the Great Lakes Naval Training Center, and Submarine School at New London, Conn. He was designated qualified in submarines while serving in U.S.S. Atule (SS 403).
Richard was selected for advance training in nuclear power, and successfully completed the year-long course at Groton, and Windsor Locks, Conn.
He was assigned to Thresher (SSN 593) in August 1962.
Richard is survived by his parents, Mr. and Mrs. G. Willard Hall; brothers, Glenn and Gregory; sisters, Lauretta and Joyce, all of Arlington, Va. He also leaves his paternal grandparents, Mr. and Mrs. George E. Hall, of Springfield, Va.; and his maternal grandmother, Mrs. Juanita Brown of Manassas, Va.

---
Previous page | Home | In Memoriam | Next page