UNITED STATES SHIP
Thresher
(SSN 593)
In Memoriam
April 10, 1963

---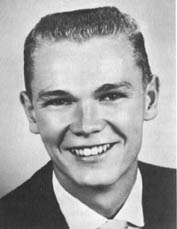 Norman Theodore Hayes
Electrician's Mate First Class
UNITED STATES NAVY
Norman Theodore Hayes was born in Los Angeles, Calif., on September 17 1938. From a Navy family, his father is Kenneth M. Hayes, senior chief storekeeper, U.S. Navy (retired).
Norman attended various schools in California, and was graduated from the American High School in Ankara, Turkey, in June 1956. During his school years, Norman was active in sports, including football; played in the schoolband, was a member of the photography club, German Language Club, and of the school's Cadet corps. He was runner up in individual drill in the State competition of the California Cadet Corps.
As a youth he was also active in scouting, and was a member of the Youth Christian Association.
Following his father's example, Norman enlisted in the Navy on February 11, 1957. He received his basic training at the U.S. Naval Training Center, San Diego, Calif., and later served in the frigate U.S.S. John S. McCain (DL 3). He then volunteered for submarine duty and upon being accepted, he was enrolled as a student in the Submarine School at the U.S. Naval Submarine Base, New London, Conn. He was selected for advance training in nuclear power, and successfully completed the year-long course on November 10, 1961. Norman was then assigned to the nuclear-powered submarine U.S.S. Thresher (SSN 593), and became a member of the crew on December 21, 1961.
Norman had earned the Navy's Good Conduct Medal during his naval service.
In addition to his parents, Mr. and Mrs. Kenneth M. Hayes of Temple City, Calif., he leaves his grandmother, Mrs. Hattie Cook, also of Temple City.

---
Previous page | Home | In Memoriam | Next page