UNITED STATES SHIP
Thresher
(SSN 593)
In Memoriam
April 10, 1963

---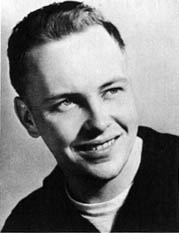 James Porter Hodge
Electrician's Mate Second Class
UNITED STATES NAVY
James Porter Hodge was born on August 19, 1939, in Tarrant City, Ala. He became interested in the Navy at an early age. His father, John W. Hodge, Sr., spent 22 years in the Navy and is how retired. James was active in the Naval Reserve program while attending Woodlawn High School from which he was graduated in June 1958.
He enlisted in the regular Navy and received his basic training at the U.S. Naval Training Center, Bainbridge, Md. He then attended the Navy's Electrician's Mate School at Great Lakes, Ill.
His first assignment was with the U.S. Atlantic Reserve Fleet at Green Cover Springs, Fla., and later with the U.S.S. Falcon (MSC 190). James was selected for further training as a Navy electrician, and was enrolled in the Electrician's Mate Class "B" School. He volunteered for submarine duty and was selected to attend the Submarine School at the U.S Naval Submarine Base, New London, Conn. James was again selected for advance training and attended the Nuclear Power School at New London, and Windsor Locks, Conn. He successfully completed the year-long course and was assigned to his first submarine, the nuclear-powered U.S.S. Thresher (SSN 593), on February 1, 1963.
James is survived by his parents, Mr. and Mrs. John W. Hodge, Sr., a sister, Charlotte and two brothers, John Walter and Charles Leon, all of Birmingham, Ala.
---
Previous page | Home | In Memoriam | Next page