UNITED STATES SHIP
Thresher
(SSN 593)
In Memoriam
April 10, 1963

---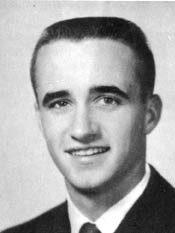 John Penfield Inglis
Seaman
UNITED STATES NAVY
John Penfield Inglis was born in Los Angeles, Calif., on April 9, 1942, the son of Mr. and Mrs. Robert P. Inglis.
John was active in Scouting prior to entering the naval service in 1960. He was a member of Explorer Post 60 of the Los Angeles Area Council. In 1959, he participated in a 125-mile canoe journey through Glen Canyon of the Colorado River, which was sponsored by the Explorer group. John became an Eagle Scout and was a winner of the Explorer Scout Silver Award.
While a student at Lynwood High School in Lynwood, Calif., he became associated with the local U.S. Naval Reserve Unit. After graduation in 1960, he enrolled in Compton College, Compton, Calif., and completed a specialized 2-year machinist's course.
John then requested active duty, and volunteered for the submarine service. Upon being accepted, he entered the U.S. Naval Submarine School at New London, Conn., successfully completing the course of instruction in October 1962. John received orders to his first submarine, U.S.S. Thresher (SSN 593), after graduation.
John is survived by his parents, Mr. and Mrs. Robert P. Inglis, and a sister, Roberta, all of Spokane, Wash.

---
Previous page | Home | In Memoriam | Next page