UNITED STATES SHIP
Thresher
(SSN 593)
In Memoriam
April 10, 1963

---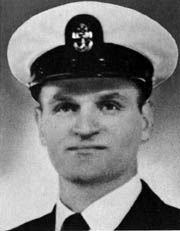 Robert Eugene Johnson
Chief Torpedoman's Mate
UNITED STATES NAVY
Robert Eugene Johnson was born on June 20, 1925, in Junction City, Ohio.
At the age of four, his family moved to Wyandotte, Mich., where he attended Roosevelt High School before enlisting into the naval service in 1942.
He received his recruit training t the U.S. Naval Training Center, Great Lakes, Ill., and was graduated in late 1942, from the Class "A" Torpedoman's Mate School at Newport, R.I.
His first sea duty was in the stores ship U.S.S. Denebola (AF 56) [note: one source says this was likely not AF 56 but AD 12], until early 1944, when he volunteered for submarine duty. He successfully completed Submarine School at New London, Conn., and his first submarine duty was in the U.S.S. Torsk (SS 423), in which he made two successful war patrols. While serving in Torsk he was designated qualified in submarines.
Following World War II, Robert served on the staff of commander, Submarine Squadron 4, and in numerous submarines including the Grenadier (SS 525), Paddle (SS 263), Gar (SS 206), and Trout (SS 566).
Robert reported to the U.S.S. Thresher (SSN 593) on February 27, 1961, and was the first man to qualify in this new class of ship. He was selected as the first "Chief of the Boat," and in this capacity served as executive petty officer in all matters affecting enlisted personnel.
This position of authority and responsibility was filled by Robert in a most exemplary manner, and his performance of these difficult and demanding duties earned him the respect of the officers and men of the Thresher.
During his more than 20 years of active duty, Robert was awarded the Good Conduct Medal, World War II Victory Medal, American Campaign Medal, Navy Occupation Medal with Asia Clasp, European African and Middle Eastern Campaign Medal, and several letters of commendation. While serving in thesubmarine Torsk, he earned the Submarine Combat Pin.
Robert is survived by his wife, Rizalina, now residing in Oakland, Calif. He also leaves his mother, Mrs. Marie N. Johnson of Wyandotte, Mich.; and a sister, Mrs. Betty Harmon of Southgate, Mich.

---
Previous page | Home | In Memoriam | Next page