UNITED STATES SHIP
Thresher
(SSN 593)
In Memoriam
April 10, 1963

---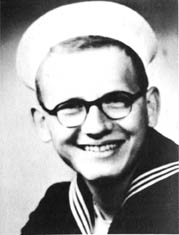 Thomas Benjamin Johnson
Electronics Technician First Class
UNITED STATES NAVY
Thomas Benjamin Johnson, the only son of William B. and Rita Tice Johnson, was born on November 20, 1937, in Williamsport, Pa., where his father, a retired Navy chief boatswain with 26 years of service, was Navy recruiting officer. The family moved to Montoursville, Pa., where they built their home, and where Thomas attended grade school. During his school years, Thomas did well in his studies, was active in the Little League, liked sketching and drawing, and was an excellent marksman with pistol and rifle. He had a reloading kit and loaded his own bullets. Thomas was an avid reader, and quite fond of history. While in high school, he was a member of the band, the Slide Rule Club, the Morse Code Club, and did all the illustrations for the class yearbook.
After graduation, Thomas enlisted in the Navy on June 22, 1955, and received his basic training at the U.S. Naval Training Center, Bainbridge, Md. He attended the Navy's Electronics Technician's School and was graduated on April 27, 1956. His first sea duty was in the destroyer U.S.S. Hyman (DD 732) prior to volunteering for submarine duty. He attended the Submarine School at the U.S. Naval Submarine Base, New London, Conn., and upon being graduated on November 6, 1957, he was assigned to the submarine U.S.S. Toro (SS 422). He became qualified as a submariner on March 30, 1958. Thomas was selected for nuclear power training and following successful completion of the 1-year course of instruction, he was assigned to the submarine U.S.S. Thresher (SSN 593), as a member of the commissioning crew on February 27, 1961.
During his naval career, Thomas had earned the Navy's Good Conduct Award with a bronze star in lieu of a second award.
He is survived by his parents, Mr. and Mrs. William B. Johnson of Montoursville, Pa.; Mr. and Mrs. Perry P. Johnson; Mr. and Mrs. J. James Johnson; Mr. and Mrs. L.G. Tice; Mr. and Mrs. C. Bausinger; and Mrs. Pearl Menken.

---
Previous page | Home | In Memoriam | Next page