UNITED STATES SHIP
Thresher
(SSN 593)
In Memoriam
April 10, 1963

---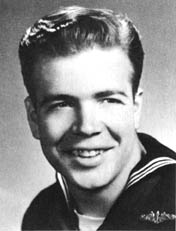 Richard William Jones
Electrician's Mate Second Class
UNITED STATES NAVY
Richard William Jones was born on December 20, 1941, in Nashua, N.H., the son of Mr. and Mrs.. William P. Jones. He spent his early boyhood in Milford, and attended local schools prior to enlisting in the naval service.
During his school years, Richard was active in Scouting, was a member of the cross-country and track team, and the brush fire squadron; and took part in the senior play. He was interested in antiques, and with his father, collected powder horns and flasks.
Richard enlisted on September 17, 1959, after graduating from high school, and received his basic training at the U.S. Naval Training Center, Great Lakes, Ill. He attended the Navy's Electrician's Mate School prior to volunteering for submarine duty. Upon being accepted, he was enrolled in the Submarine School at the U.S. Naval Submarine Base, New London, Conn., and was graduated with the class of July 1960. He was then assigned to the submarine U.S.S. Diablo (SS 479), in which he became qualified as a submariner on August 17, 1961, and was awarded his silver dolphins. He was later selected for training in the nuclear power program, and successfully completed the year-long course at New London and Windsor Locks, Conn. On February 4, 1963, Richard was assigned to the submarine U.S.S. Thresher (SSN 593).
He is survived by his parents, Mr. and Mrs. William P. Jones; sister, Doris and Betty Jones, and Mrs. Edith Gauthier all of Milford, N.H. He also leaves two nephews, Mark and Carl Gauthier, and several aunts and uncles.

---
Previous page | Home | In Memoriam | Next page