UNITED STATES SHIP
Thresher
(SSN 593)
In Memoriam
April 10, 1963

---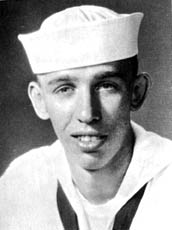 Edmund Joseph Kaluza
Sonarman Second Class
UNITED STATES NAVY
Edmund Joseph Kaluza was born on February 4, 1941, in Holyoke, Mass., the son of Mr. and Mrs. Edward Kaluza. In 1957, his family moved to Williamansett where he attended Chapin Elementary School. During his junior and senior high school days, Edmund was active in Scouting, was a member of the Holyoke YMCA, where he played basketball, and earned his Junior and Senior Life Saving Merit Awards. Edmund's interest in the Navy was brought about during a visit to the U.S. Naval Submarine Base, New London, Conn., when he was a member of Boy Scout Troop 33, sponsored by Saint Mary's Church of Williamansett.
During his senior year at Chicopee High School, Edmund joined the U.S. Naval Reserve Unit, and after being graduated with the class of June 1959, he enlisted in the regular Navy. He received his basic training at the U.S. Naval Training Center, Great Lakes, Ill., and attended the Navy's Fleet Sonar School at Key West, Fla., before volunteering for submarine duty.
Edmund successfully completed the Submarine School course of instruction and was graduated on June 22, 1960. His first submarine duty was in the U.S.S. Jallao (SS 368). He later served in the U.S.S. Grouper (SS 214), in which he became qualified as a submariner on November 27, 1961, and was awarded his silver dolphins. Edmund saw service in the submarines U.S.S. Picuda (SS 382) and U.S.S. Barracuda (SST 3) , prior to being assigned to the nuclear-powered submarine U.S.S. Thresher (SSN 593), on March 5, 1963. He had also earned the Navy's Good Conduct Medal.
He is survived by his parents, Mr. and Mrs. Edward Kaluza; brothers, James and Frank Kaluza, and grandparents, Mr. and Mrs. Frank Kaluza.

---
Previous page | Home | In Memoriam | Next page