UNITED STATES SHIP
Thresher
(SSN 593)
In Memoriam
April 10, 1963

---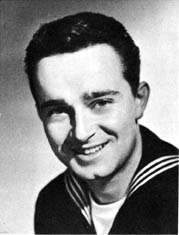 Thomas Charles Kantz
Electronics Technician Second Class
UNITED STATES NAVY
Thomas Charles Kantz was born on May 29, 1935, in Detroit, Mich., the only son of Mrs. Anna L. Kantz and the late Thomas Bellis Kantz. During his school years, Thomas did well in his studies, participated in the school's athletic program and was an active member of the basketball and baseball teams. He served as a class officer for 4 years. After being graduated in 1954, he attended Wayne State University where he majored in engineering. After the sudden death of his father in 1955, Thomas transferred to Central Michigan University and continued his studies. He completed 3 years of college and decided to enter the naval service on October 29, 1957.
Thomas received his basic training at the U.S. Naval Training Center, San Diego, Calif., after which he volunteered for submarine duty. He successfully completed the course of instruction at the Submarine School, U.S. Naval Submarine Base, New London, Conn. He was then assigned to his first submarine, the U.S.S. Salmon (SS 573), which was operating as a unit
of the Pacific Fleet.
He was later selected for advance training in nuclear power, and completed the year-long course of instruction. On November 30 1961, Thomas reported for duty to the U.S. S. Thresher (SSN 593). During his naval career, Thomas had earned the Navy's Good Conduct Medal.
In addition to his widowed mother, Mrs. Anna L. Kantz of Ann Arbor, Mich., he is survived by an aunt, Mrs. Margaret Dierkes, and a cousin, Norman S. Dierkes of Clawson, Mich.

---
Previous page | Home | In Memoriam | Next page