UNITED STATES SHIP
Thresher
(SSN 593)
In Memoriam
April 10, 1963

---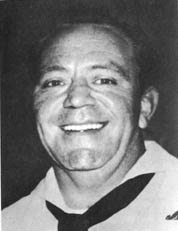 George John Keisecker
Machinist's Mate, Second Class
UNITED STATES NAVY
George John Kiesecker was born on October 30, 1924, and spent his early boyhood in Brooklyn, N.Y. Prior to entering the naval service in November 1942, he attended Queens Vocational High School where he was a member of the football team. George was an avid reader, an excellent dancer, played piano and organ, and had won several medals for his swimming feats.
On November 13, 1942, George entered the Navy and received his recruit training at the U.S. Naval Training Center, Great Lakes, Ill. He volunteered for submarine duty and served in the submarine U.S.S. Sea Dragon (SS 194), in which he became qualified as a submariner on December 30, 1944. While serving in the Sea Dragon during World War II in the Pacific area, George earned his submarine combat insignia for participating in various war patrols; Asiatic-Pacific Service Medal, World War II Victory Medal, American Defense Service Medal, Philippine Liberation Medal, and the National Defense
Service Medal. He was also awarded the Navy's Good Conduct Medal.
After World War II, George returned to civilian life for several years, but re-enlisted in the Navy on December 10, 1947. He again volunteered for submarine duty and served in the U.S.S. Salmon (SS 573) and the U.S.S. Diodon (SS 349), prior to being selected for advance training in nuclear power. George attended the nuclear power training units at both the U.S. Naval Submarine Base, New London, and at Windsor Locks, Conn. Upon successfully completing the course of instruction he was assigned to his first nuclear powered submarine, U.S.S. Thresher (SSN 593), where he served as a nuclear reactor operator.
He is survived by his widow, Mrs. Lily Kiesecker of Los Angeles, Calif.; his mother, Mrs. Elizabeth Kiesecker of Brooklyn, N.Y.; a brother, Donald of Long Island, N.Y.; sister, Mrs. Carolyn Rodano of Brooklyn, N.Y.; and a daughter, Mrs. James Keele of Torrance, Calif.

---
Previous page | Home | In Memoriam | Next page