UNITED STATES SHIP
Thresher
(SSN 593)
In Memoriam
April 10, 1963

---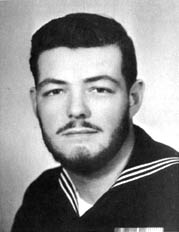 Wayne Wilfred Lavoie
Yeoman First Class
UNITED STATES NAVY
Wayne Wilfred Lavoie was born on April 10, 1935, in Rochester, N.H., the son of Mrs. and Mrs. Wilfred Lavoie. He attended local schools as a youth, and was graduated from Spaulding High School in 1953, where he had been a varsity football and basketball player, and president of his school's Student Activity Association. He was a member of the Shamrock basketball team in the City Church League, and was active in 4-H activities, serving as a counselor when he was only 16 years of age.
After high school, Wayne enlisted in the Navy on March 9, 1954 and received his basic training at the U.S. Naval Training Center, Bainbridge, Md. He attended the Navy's Yeoman School and upon being graduated, he was assigned to the attack cargo ship, U.S.S. Washburn (AKA 108). During his 9 years of naval service, Wayne had been awarded the Navy's Good Conduct Medal, the National Defense Service Medal, and the China Service Medal.
Wayne subsequently served at the U.S. Naval Station, Brunswick, Maine, and the U.S. Naval Retraining Command at Portsmouth, N.H., prior to volunteering for submarine duty. He was accepted for training at the U.S. Naval Submarine School, New London, Conn., and upon being graduated on March 8, 1961, was assigned to his first submarine, U.S.S. Corsair (SS 435). It was while serving in Corsair, that Wayne became qualified as a submariner, and awarded his silver dolphins on August 31, 1961. He later served in the U.S.S. Albacore (SS 569), prior to being assigned as a member of the crew of the nuclear-powered submarine U.S.S. Thresher (SS 593)in February 1963.
Wayne was lost on his 28th birthday.
He is survived by his widow, Mrs. Gernie E. Lavoie; a son, Joseph Wayne; four daughters, Linda Elaine, Brenda Ann, Karen Irene and Cynthia Lois; his parents, Mr. and Mrs. Wilfred Lavoie of Gonic, N.H., and a brother, Kenneth S. Lavoie, a member of the U.S. Air Force.

---
Previous page | Home | In Memoriam | Next page