UNITED STATES SHIP
Thresher
(SSN 593)
In Memoriam
April 10, 1963

---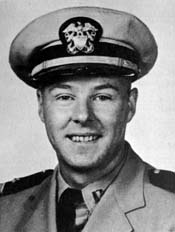 John Sheldon Lyman
Lieutenant Commander
UNITED STATES NAVY
John Sheldon Lyman was born February 12, 1931, in Memphis, Tennessee. He attended Broadripple High School in Indianapolis, Indiana, where he was active in sports, particularly football. During 3 of his high school years he was selected to the All-City Football team.
Upon completion of high school in 1949, John entered the University of Wisconsin where he participated in the Naval Reserve Officers' Training Corps program. He was graduated in June 1953, with a bachelor of science degree, and was commissioned ensign. His first sea duty assignment was in the destroyer U.S.S. Goodrich (DD 831), which was followed by a tour of duty on the staff of the commander, Destroyer Division 302, where he served as operations and communications officer.
John applied for submarine duty and entered the submarine school in June 1956. Graduating in December of the same year, he was assigned to the submarine U.S.S. Ronquil (SS 396), where he served until June 1959. John was selected for advanced training in nuclear power, and successfully completed the course of study at schools located in New London, Connecticut, and Schenectady, New York, in May 1960. He was then assigned to the commissioning crew of U.S.S. Thresher, and was qualified in submarines, and qualified as a nuclear reactor operator.
John had earned the Navy Occupational Service Medal and the National Defense Service Medal during his naval service.
John is survived by his widow, the former Joan Boerner of Kenosha, Wisconsin; children, Michael Dean, Robert Allen, and Catherine Lee. His widow and children now reside in Kittery, Maine. He also leaves his parents, Mr. and Mrs. John S. Lyman of Palm Beach, Florida.

---
Previous page | Home | In Memoriam | Next page