UNITED STATES SHIP
Thresher
(SSN 593)
In Memoriam
April 10, 1963

---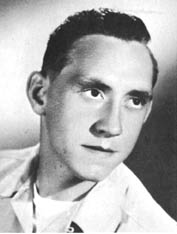 Sidney Lynn Middleton
Machinist's Mate First Class
UNITED STATES NAVY
Sidney Lynn Middleton was born on April 8, 1937, and spent his early boyhood in Nampa, Idaho. He attended Sunny Ridge School and Nampa Senior High School where he earned his letter in baseball.
After high school, Sidney enlisted in the Navy on July 26, 1954, and received his recruit training at the U.S. Naval Training Center, Great Lakes, Ill. In November 1954, he entered the Navy's School for Machinist's Mates at the Great Lakes, and upon completing the course, he was selected for further training in refrigeration and air conditioning.
In July 1956, he was assigned to the repair ship U.S.S. Ajax (AR 6), and served in that command until April 1958, when he then returned to civilian life. During his inactive duty, Sidney became associated with a floorcovering firm in Idaho.
Sidney returned to the Navy in November 1960, and was assigned to the guided missile destroyer U.S.S. Lynde McCormick (DDG 8). He was selected for training in surface nuclear power, and was enrolled in the Nuclear Power Training Unit at New London, Conn., and at Idaho Falls, Idaho. While attending the nuclear power training unit, Sidney volunteered for submarine duty and upon being accepted, was enrolled in the Navy's Submarine School at New London, Conn., for training. After graduating in January, 1963, he was assigned to the U.S.S. Thresher (SSN 593) and reported for duty on February 17, 1963.
He is survived by his widow, the former Barbara Wolfe; a son, Jeffrey; his father, Mr. Marion F. Middleton; four brothers, R. K. Harder, Donald, David and Robert Middleton; and three sisters, Peggy, Phyllis and Doris.

---
Previous page | Home | In Memoriam | Next page