UNITED STATES SHIP
Thresher
(SSN 593)
In Memoriam
April 10, 1963

---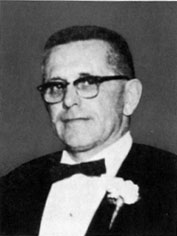 Henry Charles Moreau
Leadingman Air Conditioning
PORTSMOUTH NAVAL SHIPYARD
Henry Charles Moreau was born in Biddeford, Maine, on February 10, 1908, the son of Mr. Henry Moreau of Biddeford, and the late Ellen Robbins Moreau.
He attended Biddeford High School and the 35th Infantry Unit School in Hawaii. A veteran of World War II, he served as a machinist's mate in the U.S. Navy.
A member of the North Congregational Church, Portsmouth, N.H., he was active in the Masonic Order. Henry was past worshipful master of Saint Andrews Lodge, past high priest of the Washington Chapter Royal Arch Masons, member of the Order of High Priesthood of New Hampshire, and grand steward of Grand Royal Arch Chapter of New Hampshire. Henry was deputy-master-elect of the Davenport Council of the Royal and Select Masters, and was scheduled to be installed on April 11, 1963, the day following the tragic loss of Thresher.
Henry had been employed with the Portsmouth Naval Shipyard for 23 years, and was on board Thresher as leadingman air conditioning for the Pipe and Copper Shop of the Production Department.
Survivors include his wife, the former Rhoda Wytcherley, a native of England; a daughter, Mrs. Joseph Stella; and two grandsons, Joseph and Ronald, who live in Berlin, N.H. He is also survived by a sister, Mrs. Gladys Cassavant of Biddeford Pool, Maine.

---
Previous page | Home | In Memoriam | Next page