UNITED STATES SHIP
Thresher
(SSN 593)
In Memoriam
April 10, 1963

---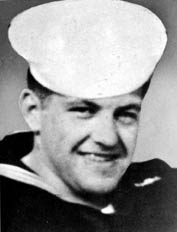 Donald Emery Nault
Commissaryman First Class
UNITED STATES NAVY
Donald Emery Nault was born on April 10, 1927, in Portsmouth, N.H. He attended Whipple Elementary School and Portsmouth Junior High School prior to entering the Navy in April 1944.
Because of his love of the sea, and interest in water sports and boats, his enlistment was preceded by several earlier unsuccessful attempts to enlist by altering his birth certificate.
Donald successfully completed his basic training at the U.S. Naval Training Center, Sampson, N.Y., and was assigned to the U.S. Navy Auxiliary Air Station, Waldron Field, Tex. He later served in the heavy cruiser U.S.S. Wichita (CA 45), and the light cruiser U.S.S. St. Louis (CL 49). Donald volunteered for submarine duty and attended the U.S. Naval Submarine School at New London, Conn. Upon graduating in the summer of 1950, he was ordered to the U.S.S. Seal (SS 183). He then served in the submarine U.S.S. Corsair (SS 435) and the nuclear-powered submarine U.S.S. Skate (SSN 578). while a member of the Skate, Donald was awarded the Navy Unit Commendation Ribbon, in connection with the Skate's historical polar cruise. He was assigned to Thresher, and on January 20, 1962, he qualified as a submariner and was awarded his silver dolphins.
Donald is survived by his widow, Mrs. Alva Gladys Nault, two daughters; Dena Lee and Dawn Sarah; a son, Donald Emery, Jr.; a sister Mrs. Corinne Hartford and his widowed mother, Mrs. Sarah Nault, both of Portsmouth, N.H.

---
Previous page | Home | In Memoriam | Next page