UNITED STATES SHIP
Thresher
(SSN 593)
In Memoriam
April 10, 1963

---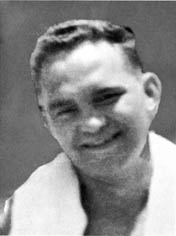 Walter Jack Noonis
Chief Radioman
UNITED STATES NAVY
Walter Jack Noonis was born on August 16, 1929, in Detroit, Mich. He attended local schools and upon graduating from high school, where he participated in many sports, he enlisted in the Navy on September 26, 1946.
Upon completing his recruit training at the U.S. Naval Training Center, Great Lakes, Ill., Walter was selected for training as a radioman. He entered the Navy's Radioman School at Bainbridge, Md. He then volunteered for submarine duty and was accepted for training at the U.S. Naval Submarine School, New London, Conn. He was graduated in August 1947, and was assigned to the submarine U.S.S. Ex-U 3008, in which he became qualified as a submariner, on May 1, 1948.
Walter's naval career was spent entirely in submarines, and he served in the submarines U.S.S. Flying Fish (SS 229), Corsair (SS 435), Piper (SS 409), and Spikefish (SS 404).
On February 27, 1961, he was assigned to the commissioning crew of the U.S.S. Thresher (SSN 593).
He is survived by his widow, Mrs. Pauline Jane Noonis; two sons, Timothy, Michael; two daughters, Sheila and Joy; his mother, Mrs. George Jakniunas of Anchorville, Mich.; and a sister, Mrs. Eugene Mierzwinski of Dearborn Heights, Mich.

---
Previous page | Home | In Memoriam | Next page