UNITED STATES SHIP
Thresher
(SSN 593)
In Memoriam
April 10, 1963

---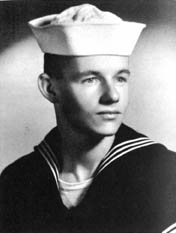 John Daniel Norris
Electronics Technician First Class
UNITED STATES NAVY
John Daniel Norris was born on November 5, 1933, and spent his early boyhood in Athens, Ga. The son of Mr. and Mrs. Cecil D. Norris, he attended local schools prior to entering the Navy on November 4, 1952.
John received his recruit training at the U.S. Naval Training Center, San Diego, Calif., and upon completing the course, he immediately volunteered for submarine duty. He was accepted and enrolled in the U.S. Naval Submarine School at New London, Conn. After graduating, he attended the Navy's Electronics Technician school, which he successfully completed on June 5, 1953.
John was assigned to the submarine U.S.S. Harder (SS 568), and on November 10, 1953, was awarded his silver dolphins for qualifying as a submariner.
Prior to being ordered as a crewmember of the U.S.S. Thresher (SSN 593), on August 26, 1961, John served in the U.S.S. Compass Island (EAG 153), and the U.S.S. Observation Island (EAG 154), both ships are involved in the Navy's Polaris program.
He is survived by his widow, Cecelia A. Norris, three sons, Richard, Robert and Roger. He also leaves his parents, Mr. and Mrs. Cecil D. Norris of Pahokee, Fla.

---
Previous page | Home | In Memoriam | Next page