UNITED STATES SHIP
Thresher
(SSN 593)
In Memoriam
April 10, 1963

---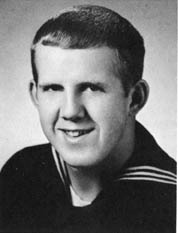 Chesley Charles Oetting
Electrician's Mate Second Class
UNITED STATES NAVY
Chesley Charles Oetting was born on December 23, 1940, in Mankato, Minn., the son of Mr. and Mrs. Carl G. Oetting. While attending school in Mankato, he participated in many of the outdoor sports, and as a member of his high school's track team. Upon completing high school, Chesley entered the Navy on December 16, 1958, and received his basic training at the U.S. Naval Training Center, San Diego, Calif. He attended the Navy's Electrician's Mate Class "A" School and was then assigned to his first ship, the aircraft carrier U.S.S. Bennington (CVA 20).
He then volunteered for submarine duty, and upon being accepted entered training at the U.S. Naval Submarine School, New London, Conn. Successfully completing the course of instruction he entered the nuclear powered program and underwent training at the U.S.Naval Subamrine Base, New London, Conn., and at the Nuclear Power Training Unit, Idaho Falls, Idaho.
On April 4, 1962, Chesley was assigned to his first submarine, the nuclear-powered U.S.S. Thresher (SSN 593).
In addition to his parents, Chesley is survived by two brothers, Bradley C., a member of the U.S. Army, and Gil Robert; a sister, Catherine Beth of Mankato, Minn.
---
Previous page | Home | In Memoriam | Next page