UNITED STATES SHIP
Thresher
(SSN 593)
In Memoriam
April 10, 1963

---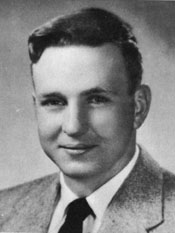 Robert Dan Prescott
Marine Engineer
PORTSMOUTH NAVAL SHIPYARD
Robert Dan Prescott was born on February 4, 1935, in Sanford, Maine, son of Mr. and Mrs. Ithel Prescott. He attended Emerson Grammar School and was graduated with honors from Sanford High School in 1953. He was manager of the basketball and baseball teams and the advertising manager for the yearbook. His awards upon graduation from high school included the American Legion Award for outstanding honor, courage, scholarship, leadership, and service, while a student. He was also awarded the Lela Thornburg Education Foundation Scholarship, a continuing scholarship for furthering education.
After high school, Robert attended the University of Maine and was graduated with a bachelor of science degree in mechanical engineering, with a minor in agricultural engineering.
Robert's special interest throughout his life was the field of agriculture and particularly 4-H work. He was the leader of the local American Eagle 4-H Club, and president of the York County Beef Club. He organized and was leader of the Sons of the Soil and Farm Safety Clubs. During his 10 years in 4-H work, Robert was selected as the most outstanding boy in York County and was chosen to attend the National 4-H Camp at Washington, D.C. He was the New Hampshire State winner in foods, garden, and beef projects, and county winner in leadership and tractor handling.
While attending the University of Maine, and shortly after, Robert became associated with the National Aeronautics and Space Administration at Langley
Field, Va. In 1959 he then transferred to the Portsmouth Naval Shipyard where he was employed as a marine engineer. He was embarked in Thresher in that capacity as a representative of the Noise Project Branch of the Planning Department.
Robert is survived by his parents, Mr. And Mrs. Ithel Prescott of Sanford, Maine; a brother, Paul of Schenectady, N.Y.; and two nephews.

---
Previous page | Home | In Memoriam | Next page