UNITED STATES SHIP
Thresher
(SSN 593)
In Memoriam
April 10, 1963

---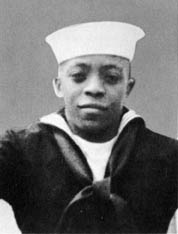 Pervis Robison
Seaman
UNITED STATES NAVY
Pervis Robison was born on December 15, 1941, in Nutley, N.J., hi family's residence for two generations. He attended public schools there, graduating from Lincoln Elementary School and Nutley High School.
While growing up, Pervis was active in Scouting as a Cub and Boy Scout. He participated in numerous activities of the Baptist Church, beginning at a very early age. For instance, he was at one time the youngest member of the Candlelight Chorus, a widely known choral group. Pervis was also a member of the Reinheimer Club, serving as treasurer.
As a student he enjoyed competitive sports. He excelled as a member of the high school track team. For his feats in the Junior Olympics, sponsored by the Optimist Club in Nutley, he was awarded an impressive trophy. Though too light to play football, Pervis served as team manager.
After graduating from high school, he enlisted in the Navy and completed his recruit training at Great Lakes, Ill. He received further training at the Navy Radio School in Bainbridge, Md.
His first sea duty was in the submarine, U.S.S. Cavalla (SS 244). Pervis also served on the staff of commander, Submarine Development Group 2, receiving a letter of commendation for his outstanding performance of duty. He was assigned to the Thresher on January 11, 1963.
The town of Nutley, N.J., erected a monument to Pervis near City Hall which will be decorated each Memorial Day by local veteran organizations.
Pervis is survived by his parents, Mr. and Mrs. Pervis Robison, of Nutley, N.J.

---
Previous page | Home | In Memoriam | Next page