UNITED STATES SHIP
Thresher
(SSN 593)
In Memoriam
April 10, 1963

---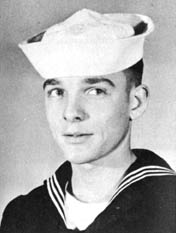 Glenn Alva Rountree
Quartermaster Second Class
UNITED STATES NAVY
Glenn Alva Rountree was born on October 23, 1938, in Jacksonville, Fla., the son of Mr. and Mrs. Sidney C. Rountree. He attended Ruth N. Upson School, John Gorrie Junior High School, and Robert E. Lee Senior High School. While in school, Glenn was a member of the school boy patrol and was active in several sports, particularly baseball. In addition, he was a Cub Scout, Boy Scout, and a member of the Riverside Park Methodist Church. his hobbies included the building of the ship models and planes, and stamp collecting.
Glenn enlisted in the Navy in Jacksonville on October 23, 1955. After completing his basic training at the U.S. Naval Training Center, Great Lakes, Ill., he served in the destroyer tender, U.S.S. Cascade (AD 16), until he volunteered for submarine duty. He was accepted for training and entered the submarine school at the U.S. Naval Submarine Base, New London, Conn. After successfully completing the course of instruction he served in the submarines U.S.S. Clamagore (SS 343), U.S.S. Perch (SS 313) and the U.S.S. Charr (ss 328).
On February 27, 1961, Glenn was selected as a member of the crew of the nuclear-powered submarine U.S.S. Thresher (SSN 593) and reported to the Portsmouth Naval Shipyard.
In addition to his parents, Glenn is survived by his widow, Mrs. Francis Rose Rountree of Portsmouth, N.H.; and a daughter, Laura L., of Jacksonville, Fla. He also leaves a sister, Mrs. Margaret Rountree Smith and a grandmother, Mrs. J. M. Barley, both of Jacksonville, Fla.

---
Previous page | Home | In Memoriam | Next page