UNITED STATES SHIP
Thresher
(SSN 593)
In Memoriam
April 10, 1963

---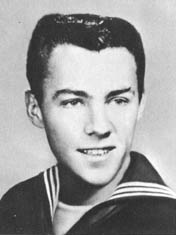 Anthony Alexander Rushetski
Electronics Technician Second Class
UNITED STATES NAVY
Anthony Alexander Rushetski was born on April 6, 1940, in Maspeth, Long Island, N.Y. He attended elementary school in Maspeth until1948, when he moved with his family to Allentown, Pa.
In Allentown, Anthony attended Jefferson Grade School, South Mountain Junior High School, and William Allen High School. Throughout his school days, he was an honor-roll student graduating among the first five students in his class. Active in sports, he earned a letter in football.
Anthony was a member of the St. Elizabeth Episcopal Church in Allentown, where he was a crucifer and a choir boy until he entered the active naval service.
Having enlisted in the Naval Reserve in September 1957, while still in high school, he enlisted in the regular Navy on November 3, 1958, after graduating from high school. He completed his basic training at the U.S.Naval Training Center, Great Lakes, Ill.
Anthony subsequently served at the Headquarters, Fourth Naval District, Philadelphia Naval Base, and in the aircraft carrier U.S.S. Independence (CVA 62), and the nuclear-powered cruiser, U.S.S. Long Beach (CG(N) 9). Having been selected for advanced training in nuclear power, he underwent training at the nuclear power training unit, Idaho Falls, Idaho, in early 1962. Anthony was assigned to Thresher on May 19, 1962.
In addition to his parents, Mr. and Mrs. Alexander Rushetski of Allentown, Pa., Anthony is survived by his grandparents, Mr. and Mrs. William Smith of Maspeth, Long Island, N.Y.

---
Previous page | Home | In Memoriam | Next page