UNITED STATES SHIP
Thresher
(SSN 593)
In Memoriam
April 10, 1963

---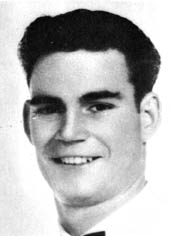 James Michael Schiewe
Electrician's Mate First Class
UNITED STATES NAVY
James Michael Schiewe was born on October 11, 1939, in Hot Springs, Ark. During his school years, and later while in the Navy, James enjoyed many sports including fishing, hunting, bowling and target shooting.
On June 4, 1957, he enlisted in the Navy at Little Rock, Ark., and received his recruit training at the U.S. Naval Training Center, San Diego, Calif. Completing his basic training in September 1957, he was ordered to the Navy's Electrician's Mate Class "A" School at San Diego. Graduating from the school in February 1958, he volunteered for submarine duty and upon being accepted, he entered the U.S. Naval Submarine School at New London, Conn.
In December 1958, James was assigned to his first submarine, the U.S.S. Jallao (SS 368). While a member of the crew of Jallao, he was awarded a letter of commendation from the commanding officer, and was qualified as a submariner. He was then awarded his silver dolphins, the badge of the qualified submariner.
An ambitious and energetic student, James volunteered for nuclear power training, and completed the 1-year course of instruction. He was then assigned to the commissioning crew of the nuclear powered submarine U.S.S. Thresher (SSN 593), at the Portsmouth Naval Shipyard. While a member of the crew, James was again presented with a letter of commendation for his outstanding performance of duty by the commanding officer. He also earned the right to wear the Navy's Good Conduct Medal.
He is survived by his wife, Mrs. Joan M. Schiewe, and a daughter, Jeri Ann, born on May 12, 1963. He also leaves his mother, Mrs. Pearl Haisler of Houston, Tex.; a sister, Mrs. Lola Fay Franchitto of Hyde Park, Mass.; and a younger brother, Wesley A. Schiewe, a member of the U.S. Navy.

---
Previous page | Home | In Memoriam | Next page