UNITED STATES SHIP
Thresher
(SSN 593)
In Memoriam
April 10, 1963

---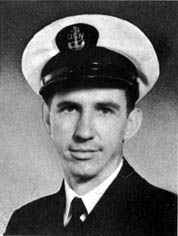 Benjamin Nathan Shafer
Master Chief Electrician's Mate
UNITED STATES NAVY
Benjamin Nathan Shafer was born on September 26, 1926, the son of Mr. and Mrs. Neil D. Shafer, in Fort Pierce, Fla. He was graduated from the Robert E. Fitch High School in Groton, Conn., in June 1944.
Benjamin enlisted in the Navy on August 8, 1944, and received his basic training at the U.S. Naval Training Center, Sampson, N.Y. Completing his training, he was ordered to the destroyer U.S.S. Doyle (DD 494), and saw service in the Pacific war area. He was awarded the Asiatic-Pacific Theater Service Medal, American Campaign Service Medal, National Defense Service Medal, World War II Victory Medal, and the Navy's Good Conduct Medal.
Benjamin was discharged from the Navy in May 1946, and accepted a position with the Electric Boat Division of the General Dynamics Corp. at Groton, Conn., where he was employed as a welder. During his free time he pursued a course of instruction in radio and television, and received his completion diploma on November 5, 1948, from the National Radio Institute. He was an avid reader, and took advantage of every opportunity to improve his knowledge in various subjects.
Benjamin returned to the Navy when he re-entered in February 1949. He then attended the Navy's Electrician's mate School, and served in the heavy cruiser U.S.S. Salem (CA 139). He volunteered for submarine duty, and received his basic submarine training at the U.S. Naval Submarine School, New London, Conn.
His first submarine service was in the U.S.S. Cobbler (SS 344), in which qualifying as a submariner, he was awarded the silver dolphins. Benjamin was selected for nuclear power training, and attended the Nuclear Power Training Unit at West Milton, N.Y. He was then assigned to the nuclear-powered submarine U.S.S. Skipjack (SSN 585). On February 27, 1961, Benjamin was assigned to the U.S.S. Thresher (SSN 593). During his naval career, Benjamin had also earned the Navy Unit Citation, and the Navy Occupation Medal with European Clasp.
Benjamin leaves his wife, Mrs. Joyce C. Shafer; a daughter, Penny L.; three sons, Stephen J., Peter N., and Michael J. He is also survived by his parents, Mr. and Mrs. Neil D. Shafer of North Stonington, Conn.; a brother, Joseph Shafer of Bath, Ohio; and three sisters, Mrs. F.G. Watson of Mobile, Ala.; Mrs. David Main of North Stonington, Conn.; and Mrs. Clyde Phelps of Gales Ferry, Conn.
Benjamin's younger brother, John Davis Shafer, a senior chief electrician's mate, was also serving as a member of the crew of Thresher at the time of the disaster.

---
Previous page | Home | In Memoriam | Next page