UNITED STATES SHIP
Thresher
(SSN 593)
In Memoriam
April 10, 1963

---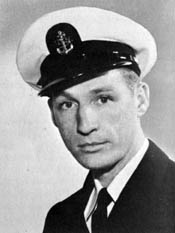 John Davis Shafer
Senior Chief Electrician's Mate
UNITED STATES NAVY
John Davis Shafer, the younger brother of Benjamin N. Shafer, was born on August 6, 1929, in Fort Pierce, Fla.; the son of Mr. and Mrs. Neil D. Shafer. During his school years in Groton, Conn., John had received several awards in both spelling and history competition. An avid sportsman, he devoted much of his free time to his hobbies of fishing, hunting, and bowling. John, like his brother Benjamin, was also interested in electronics, and was active in television repair work.
Upon graduating from Robert E. Fitch High School in June 1947, he enlisted in the Navy, and received his basic training at the U.S. Naval Training Center, Great Lakes, Ill. After his training, he was ordered to the aircraft carrier U.S.S. Franklin D. Roosevelt (CVA 42). He later served in the heavy cruiser U.S.S. Salem (CA 139). John volunteered for submarine duty and attended the submarine school at the U.S. Naval Submarine Base, New London, Conn. He then attended the Electrician's School at the base and completing the course in July 1952, was assigned to the submarine U.S.S. Harder (SS 568). In 1953, he served in the submarine U.S.S. Entemedor (SS 340), and qualified as a submariner. He was awarded the ensignia of the qualified submariner, the silver dolphins. John also served in the submarines U.S.S. Kingfish (SS 234) and Trutta (SS 421), prior to being ordered to nuclear power training at Windsor Locks, Conn. On September 2, 1961, John was assigned as a crewmember of the Thresher, where he joined his brother.
During his naval career, John was awarded the Navy Occupation Medal with European Clasp, National Defense Service Medal and the Navy Good Conduct Medal with three stars in lieu of three awards.
John is survived by four sons, John Jr.; Jeff, Joseph, and James Shafer. He also leaves his parents, Mr. and Mrs. Neil D. Shafer of North Stonington, Conn.; a brother, Joseph Shafer of Bath, Ohio; and three sisters, Mrs. F.G. Watson of Mobile, Ala.; Mrs. David Main of North Stonington, Conn., and Mrs. Clyde Phelps of Gale's Ferry, Conn.

---
Previous page | Home | In Memoriam | Next page